Music sales widgets are the Flash based "mp3 players with built-in music store" we see appearing across the web. SNOCAP is arguably the best known vendor, thanks to high profile deals with EMI and Myspace. But there are at least half a dozen other companies offering similar tools.
Why use one of these widgets to sell music on your site? Consider:
Cost: Unless you're a web developer, equipping your site with the features in these players will require outside help, and it won't likely come cheap.
Fan retention: You could outsource media sales to a company like CD Baby, but that means sending fans AWAY from your site to make a sale. Hardly optimal.
Ease of implementation: The media players work just about everywhere, including Myspace and Facebook, so you don't even need your own web site to start selling tracks! (Though, really, you do need your own web site …)
Features: Thanks to near-universal support for Flash among web browsers, you can add music streaming, and in some cases social networking, to your site without having to worry about cross-browser issues.
The Players
The most popular players come from Amie St., Blast My Music, Hoooka, Musicane, Nimbot OMT, Project Opus, and SNOCAP. The 7 have a few common features:
They're Flash-based, and embed in any web page with some simple HTML.
They support the sale of individual songs, and full albums.
They let listeners stream your music.
They don't require you to give up any rights in your music.
Each player also offers something unique, however, and I've laid out the major features below:
Rankings
I've ranked the services below in descending order based on the features that are most important to me as an indie artist: How much do I make per sale? And how much control do I have over what's offered?
With the caveat that I haven't yet used all of the services personally: The free version of Nimbit OMT is my favorite, even without the CD and merchandise selling available in the premium versions, as the revenue share and pricing flexibility are the most artist-friendly of the group. SNOCAP is my least favorite because, along with their puzzling decision to charge an annual fee, their admin interface makes me feel like I'm essentially a commodity for their exploitation.
The rest fall somewhere in between. I've highlighted the main distinguishing features of each so that even if your criteria differ from mine, you can still determine which player best fits your marketing strategy.
1. Nimbit OMT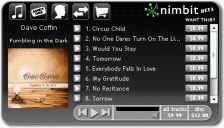 Website: http://www.nimbit.com
In their own words:
The nimbit OMT is your ultimate, all-in-one sales and marketing tool… use your nimbit OMT to establish or enhance your online presence, create brand awareness, market and sell your music, promote your gigs and other events, connect with your fans, build your mailing lists, engage in creative marketing and promotional activities and/or offer your fans an easy way to work with you!
Differentiators: Collect email addresses for mailing list. And although it's a premium feature, nimbit OMT is the only tool here that allows for the sale of CDs and merchandise.
Hightlights: Nimbit OMT shares 80% of the sale price with artists (tied for the highest rate with Hoooka.) Artists set their own sale price, although there's a set minimum price of 49 cents.
2. Hoooka
Website: http://www.hoooka.com/
In their own words:
The hoooka is a unique technology that combines the community and networking aspects of MySpace with the digital sale opportunities and exposure of iTunes. Anyone, from artists to fans, can easily create their own portable digital locker and post it anywhere – blogs, MySpace pages, or Web sites – and instantly become their own mobile media store.
Differentiators: Hoooka's main differentiator is their affiliate program, which allows anyone to sell tracks on an artist's behalf and earn 10% of the revenue. The Hoooka is also the only player that offers live chat among users.
Highlights: The 80% revenue share with artists is a plus, but the fixed price of 99 cents per track will hold a lot of indie artists back.
3. Amie Street
Web site: http://amiestreet.com/
In their own words:
We support our artists by giving them 70% of song sales and never taking ownership of their creative work. We want all artists on Amie Street to be successful and we believe that our unique marketplace will accomplish this goal to a degree never achieved before. Amie Street is where bands and fans run the show.
Differentiators: The most unique thing about Amie Street is their business model. They describe it better than I can, though they promise "our pricing model encourages music lovers to discover and buy new music."
Highlights: The service is free to join, and open to anyone. Artists don't set the price. Rather, songs are initially free, and slowly rise in price as fans discover and purchase them. Artists get 70% of the revenue from each song, but only after it has made $5.
4. Musicane
Website: http://www.musicane.com/main/home
In their own words:
Musicane is a tool that enables artists to sell their music, video, and ringtones from any site that allows you to embed flash… The best part about musicane is that your fans can actually resell your custom stores and products! They can sign up for musicane for free and become a reseller of your content. Every time they sell a download they receive a commission that you set.
Differentiators: Musicane also caters to video and ringtone sales; And like SNOCAP, they offer Widows Media DRM protection for those who want it.
Highlights: Artists set their own per-track sale price, and Musicane shares 60% of the revenue. However, they also offer a paid service, at $20 a month, which entitles the artist to 80% of the sale price.
5. Blast My Music
Website: http://www.blastmymusic.com/
In their own words:
BlastMyMusic is an online service that lets you buy music directly from the websites of your favorite bands! As an Artist, create an account on BlastMyMusic.com and sell your own, original music directly from your websites!
Differentiators: None to speak of, which in itself might be a differentiator. BlastMyMusic is a bare-bones no-nonsense mp3 sales widget. If their revenue share was higher, this player would likely be my favorite, as it does what's needed, and gets out of your way.
Highlights: Artists can't set their own sale price – all songs sell for 99 cents, although the company claims this will change. BlastMyMusic shares 65% of the sale price with artists.
6. Project Opus Folio

Website: http://www.projectopus.com/
In their own words:
[T]he easiest way to share and discover new music on the web. Each player gives fans the ability to share unlimited music with their friends, which in turn gives artists continuous exposure to new fans and broader audiences.
Differentiators: Offers multiple media formats, including Ogg and AAC.
Highlights: All songs sell for $1.00, of which the artist gets 50 cents.
7. SNOCAP
Website: http://www.SNOCAP.com/
In their own words:
Sell your music on MySpace and beyond – Easily upload your music – Set your own prices – Monitor your sales on a daily basis – you keep all the rights – Only $30 per year (the first year is FREE)
Differentiators: SNOCAP integrates directly with Myspace, rather than through template hacks. They also offer Windows Media DRM, and sound recording registration through the SNOCAP Digital Registry.
Highlights: Thanks to their partnership with Myspace (and the cachet of Shawn Fanning's involvement,) SNOCAP is the biggest name in the group. They have a no-nonsense pricing model: Artists set their own wholesale price for each track, to which SNOCAP adds a flat 39 cent fee. But for most indie artists, the service has 2 big strikes against it: SNOCAP is currently only available to U.S. residents (and only offers payment by direct bank deposit;) and while the first year of service is free, SNOCAP plans to charge $30 a year thereafter. Given the glut of competitors who charge nothing, I doubt this will last.